Tired of browsing through the internet for hours looking for interesting and relevant videos?
You may want to check out this software, Viral Video Curator Pro.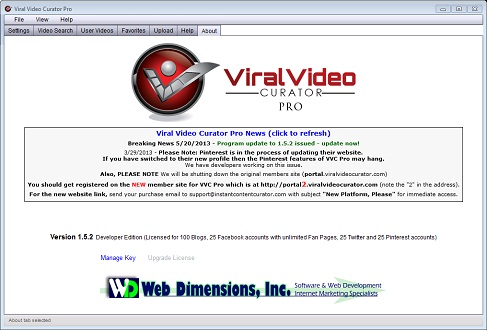 Through this tool you can easily create entertaining content with videos relevant to your niche.
VVC Pro is a tool that assists users in identifying videos based on keywords. Through this software you can effortlessly search videos through four different video portals – YouTube, Vimeo, MetaCafe, DailyMotion. It allows you to build a post around the video you found, as well as post videos to multiple social media sites like Twitter and Facebook and multiple WordPress blogs.
It can really help you build your social media presence and generate traffic to your blogs and websites.
Here are some of the most useful features of VVC Pro…
Facebook Grabber
One really cool feature of VVC Pro is that it allows you to grab the video you want in the video search list, and instantly post it to your Facebook fan pages and Twitter accounts. All you need to do is incorporate your social media accounts with this software.
Quick Post Editor and Social Bookmarking
You can also easily build a post around the video you found as this software includes a Quick Post Editor. Through this editor you can create a really nice post and post it to your blog and multiple social accounts.
User Videos
Another useful feature is the User Videos. This functionality allows you to search for videos by a particular Youtube user. The software will display all the videos from the particular user you want and from that perform all the other functions VVC Pro offers. You can add multiple user video profiles and delete them as you want.
Spinner Service
If you have a Best Spinner or Spin Rewriter account you can integrate it with VVC Pro as well. This will allow you to use spintext in certain areas in the software (for instance, in writing descriptions) to generate multiple unique content.
Post Scheduling
VVC Pro also offers a post scheduling option. It's very easy to create a post or grab a video and then set a future post date for it.
This curation program is on Adobe AIR platform, so it works perfectly on both Mac and Windows.
Want to get a copy of VVC Pro?
This content creation tool is available in three licensing levels: Single, Multi- Site and Developers. The software comes with access to their member, which contains training materials, bonuses and pdf ebook training guides, and more.