If you want a full-featured suite of tools for your internet marketing needs, you may want to consider joining Web Dimensions Unlimited Software Membership.
I find their system quite impressive for two good reasons: their software products are easy to use as well as effective, and they offer great support in learning and maximizing the potential of their products.
All members in good standing receive the following:
Unlimited licensing for all of their software and plugins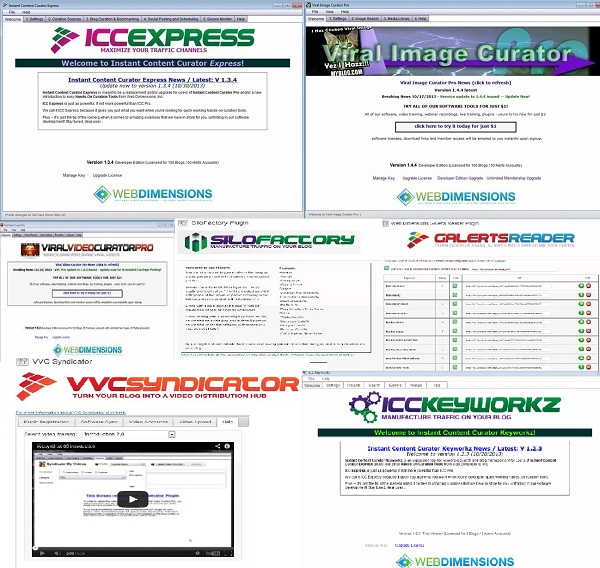 Instant Content Curator Express (ICC Express) – a curation product that helps users find news feeds, images, videos and other online materials to curate for their blogs, Facebook fan pages, Twitter accounts, etc.
Viral Image Curator Pro (VIC Pro) – an image management system that provides a wider selection of royalty-free images. It helps users find great images for any content need and also has a built-in meme editor.
Viral Video Curator Pro (VVC Pro) – a video curation tool that enables users to curate content from four popular video portals (YouTube, Vimeo, MetaCafe, and DailyMotion). It also allows posting and bookmarking to Facebook, Twitter, Scribd, multiple Facebook fan pages, and more.
ICC Keyworkz – software that helps users find and organize keywords. It interfaces with ICC Express to synchronize projects. Ultimately, it helps configure blogs and websites with proper keyword content.
Silo Factory Plugin – this plugin interfaces with Keyworkz to structure a blog menu for maximum traffic.
GAlerts Reader Plugin – a plugin that reads Google email alerts and turns them into keyword-based RSS feeds. It can be incorporated with ICC Express in order to curate the email alerts.
VVC Syndicator – a plugin that works with VVC Pro. It turns a blog into a video syndication hub. It also helps syncs desktop software to blog's time for instant publishing.
Overall, their tools are geared towards improving traffic, opt-ins and sales for blogs/websites, through creating keyword targeted and interesting content as well as providing effective social syndication.
Platinum account in their centralized member area
Their unlimited members also enjoy Developer level access to their centralized member site. The member area contains access to all documentation, training videos, recorded webinars and other bonuses.
Weekly live webinars
They also train their members on how to effectively use their entire system through a live webinar every Wednesday afternoon EST. Plus, they also offer 24/7 email support. So you won't have to feel lost with their comprehensive infrastructure system.
Software updates
Unlimited members can download the latest version of all the software whenever there are new features or functionality added in any of their products.
Access to their future software tools
Perhaps one of the most convincing reasons to join their unlimited software membership is that it includes access to all their coming products. Awesome, right?
Invest with the right set of tools. Join their membership now!