Over the years there have been some launches of website video avatars – these are the type of plugin on your website that pops up a video of an (apparently) live person that appears on the lower corner of the website. These types of avatars are known to increase conversions up to 10x because the visitor has a human face from which to gather information, rather than having to read through the page.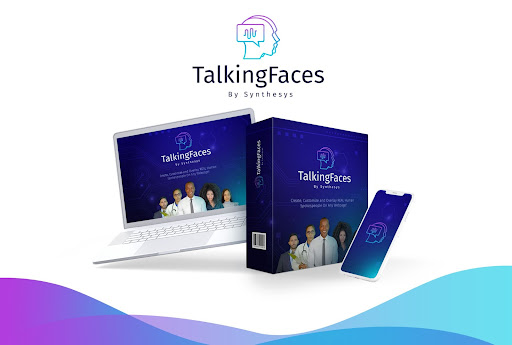 If you've never had one of these before and you want one, we highly recommend the new AI avatar product from Todd Gross and company:
Introducing… Talking Faces, the Best New Website Avatar Software
With the low priced front end product, you get the following:
Up to 12 Faces For Reface
10 TalkingFaces
20 Human Voices
30 Previews (10 talking faces x 3 previews each)
Up to 1,000 characters for each TalkingFaces video.
No credits required
Unlimited videos
Commercial license – Sell to your clients
Then there is a higher license which comes as an OTO #1 which adds to the previous features, the following impressive list of items:
47 Actors and future actors (with outfits included – Multiple outfits that fit all niches like nurse, doctor, business outfits, gym outfits etc)
50 Extra PRO Real Human Voices
141 Previews (47 talking faces x 3 previews each)
Unlimited Faces For Reface – Create Unlimited Faces
Future TalkingFaces for one year
OTO 2 upgrades you and provides the following features and benefits:
Upload any voice OR your own voice / ANY audio in ANY language (your voice is synchronized with perfect lip syncing on TalkingFaces)
Re-facing, upload any photo for up to 70% re-facing
Up to 2,000 characters for longer TalkingFaces videos.
Hide TalkingFaces Branding
Priority VIP rendering
Priority Future Software Updates
HD Quality Humatars
OTO 3 provides you with unlimited sub accounts for clients in an agency package.
I wanted to provide you with this information in advance so you won't feel lost going through the funnel. Probably you could get away with just the front end product, but there are your options.
click here to learn more about TalkingFaces
Humatars are Website avatars and they're back with AI
Do you remember those website avatars they called "Humatars"? They're like real-human spokespersons that you can program and they appear on the front of your website. Todd & team first released them as a part of Human Synthesys Studio, and everybody loved them because they work to increase conversions.
What's different between Human Synthesis Studio and Talking Faces?
Imagine being able to change their facial appearance – yes change how a real human looks (with refacing technology)…
Imagine being able to overlay them on virtually any web page you want, to boost engagement and conversions…
Imagine still being able to simply type and have a real human saying exactly what you want?
ALL of that and so much more can be done in this brand-new spokesperson creation software!
You kinda have to see it to believe it.
TalkingFaces also has a bunch of call-to-action features as well — you can add an opt-in form, buttons, countdown timers and more. And it's all been worked out so that these avatars will load and play well on any browser your visitor might be using (all of them).
With TalkingFaces you can select "auto-play" gestures to lure traffic to take action just like Vanessa: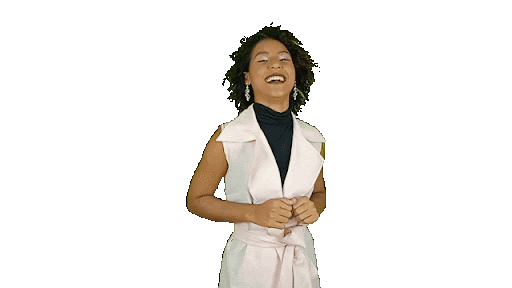 TalkingFaces does all of this:
Maximum flexibility in what real humans say
For the first time, change how real humans look
Powerful calls-to-action
On virtually any website you want!
And more…
click here to learn more about TalkingFaces
Getting Clients Made Easy with Website Avatars
How would you like to approach ANY business with something that will instantly boost engagement and conversions on their website? You can do it so easily with this new TalkingFaces… it's a claim that's been made repeatedly, but this time it's different.
Here's a real-life example on how you can use TalkingFaces to make an instant impression on a local business (or any business).
Just a hypothetical, let's say your local flower shop has a website – this is what you do…
Create a TalkingFace spokesperson that welcomes site visitors, offers a discount on flowers, something relevant to the flower shop (remember you can make these real humans say anything)!
Then you grab the flower shop's website URL and copy and paste it into the software…
You end up with this: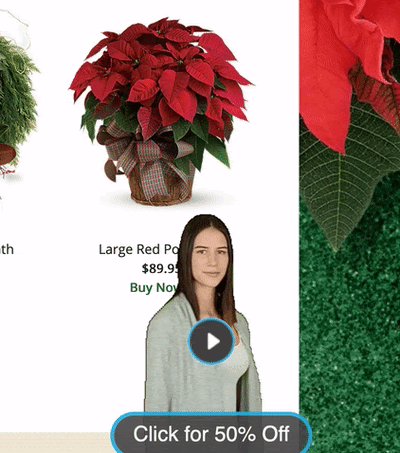 You just gave your local flower shop a model spokesperson promoting their services, offers, welcoming site visitors, whatever they want – and it only took you 5 minutes or less.
You're going to totally impress the owner of the flower shop with this awesome technology, guaranteed.
They're going to see with their own eyes how useful, and how powerful something like this can be to help engage and convert their website visitors instantly.
As a result, you're going to LOCK IN that client, without fail. It's never been so easy!
That's what you can do with TalkingFaces and it's applicable to virtually EVERY single business/service/organization out there.
It offers many actors to choose from, and you can even "re-face" the actors to get a different look if you'd like… It's new-age technology you won't find ANYWHERE else and there's so much more that will blow you away!
Real Human Spokespersons Instantly on Any Website
"Humatars" could be the secret formula that local businesses need — what if YOU could be the one to help businesses boost engagement and conversions from their website? You would be their hero! And they would be willing to pay a nice recurring fee to you for your services. Just take the example of the flower shop above.
Site-Jacking for Affiliates the Right Way: Real Human Spokespeople on Other People's Web Pages!
TalkingFaces is amazing technology that allows you to place REAL Human Spokespersons immediately onto OTHER people's web pages. Boost your own authority, or even make sales as an affiliate for the page that is "behind" your spokesperson. You can type what the spokesperson should say, and it can be about the very product you are promoting. They "speak" when the play button is pressed.
With TalkingFaces you also can select "auto-play" gestures, which are greetings that they perform at the very start, when someone first comes to the page — this "lures" traffic, and encourages folks to take action.
In Conclusion:
TalkingFaces give you all this:
Have the ability to take a REAL human spokesperson and overlay it on most ANY website as an instant "Greeter"
Coerce website visitors to take action
Simply type what this REAL human will say.
Change what this REAL human looks like.
Commercial rights.
Thousands of current customers are loving TalkingFaces and are already using it to make a difference in their business – maybe you should too – click here to learn more about TalkingFaces.