Looking for ways to raise your website's traffic stats?
Check out this cool new plugin, Page View Exploder.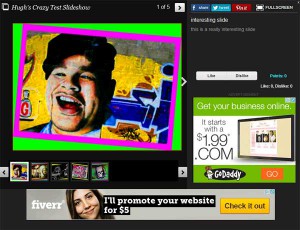 As it name suggests, this plugin helps increase blog traffic by providing a small piece of code for your posts and pages, which in turn creates a keyword-based slideshow.
Here's a quick video explaining how this awesome plugin can help boost your traffic statistics as well as your website rankings.
Flickr Feeds
PVE interfaces directly with the Flickr Image Repository to provide the user a beautiful image slideshow display. Flickr's RSS feed also automatically generates titles and descriptions. You need not to worry about proper attribution as well, because the plugin automatically creates the appropriate attribution data.
Custom Slideshow
If you don't want to use Flickr images that much, you can also create your own slideshow. All you need to do is upload the images you want to use directly to the WordPress media library. With just a few clicks, the images will be transformed into a fascinating slideshow. You can further customize the slides with unique titles and descriptions.
Every Click Counts
Beautiful images will make visitors click from picture to picture. What's great is that this plugin count EACH click as pageview every time someone looks at the next photo. Increasing this traffic stat also increases the value of your website to advertisers.
Social Media Sharing
What's even more interesting is that PVE has built in buttons for Facebook, Twitter and Pinterest. So it will inspire your visitors to share the awesome photos and slides with other people.
Real User Engagement
People just love browsing and sharing photos, right? Perhaps the best thing about PVE is that it can keep your viewers engaged much longer. As a result, the important "Time on Site" website metric also increases. And soon Google will notice this real engagement on your site.
This cool new plugin is worth the try. It's super fun and easy to use and will make your website look really good in both the visitors' and Google's eyes.