Having trouble finding your money keywords to use on your blog?
Check out this cool software ICC Keyworkz with its partner, the Silo Factory plugin.
You can use them together to make sites that will make you money!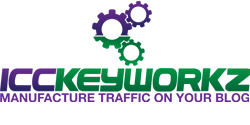 ICC Keyworkz uses the Google Keyword Planner as a part of its functionality. Aside from the search feature, you can also organize the search results, identify profitable keywords and assemble them into a siloed structure that you can use to a new blog/website.
Ease of Use
Keyworkz is so easy to use. All you need to do is set up your account properly and enter the keyword to get ideas. It will auto-log you into your Adwords account and will access the Keyword Planner and initiate your search. This tool will download approximately 300 keywords before stopping to show you the results, unless you click the button that says "stop searching now and show results".
Filters
Once the results screen pops up, you'll see a number of filters you can apply to further improve your results. With a few tweaks you'll get the kinds of keywords you want, of course depending on your style of marketing. You can filter the results by search volume, competition, CPC or cost per click.
The coolest thing about it is that you can even apply any combination of the filters and then save your settings to a saved filter. You can use the same filters to any batch of results to get just the kinds of results you need.
Interfaces with ICC Express
One awesome feature of Keyworkz is that it interfaces with ICC Express, a content curation software from the same program developer. ICC Keyworkz will import the keywords into your curation module for ICC Express so you can easily find content that perfectly matches the keyword channels you've set up.
Keyword Hierarchy
You can also arrange the keywords you found in ICC Keyworkz to create an operational keywords hierarchy. You can easily arrange the structure of your keywords by simply by dragging and dropping them into any order you want.
ICC Keyworkz will also go through your keyword hierarchy, then go out and automatically create alerts on your Talkwalker account so your keywords will resonate throughout the entire process of curation, posting and traffic attraction.
Silo Factory
Once you're all set with your keyword hierarchy, then you can execute operations on your new blog. This tool comes with the Silo Factory plugin, which interfaces with Keyworkz to structure a blog menu.  You can connect the plugin to the software and visually design silos.  And with just one click you can make them a reality – create categories and menus using your new keyword structure.
All you have to do is install, activate and register the plugin.
So far this tool works best with a new blog, but if you simply wish to wipe all the categories on your existing blog to start fresh with your new keywords, you can easily do that with Keyworkz. If you don't delete your old categories, any new categories you make will exist with the old ones.

ICC Keyworkz is an Adobe Air-based program so it works with Mac or PC. A Google Adwords account is recommended for use of the Keyword Planner. And SEM Rush API subscription is also recommended to maximize its functionality.
Want a copy of ICC Keyworkz with Silo Factory Plugin?