Looking for a full featured content curation system?
This software might be what you're looking for — Instant Content Curator Express or ICC Express.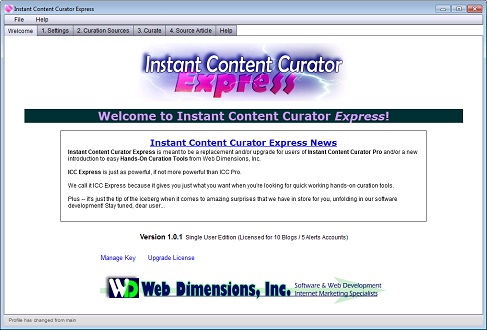 ICC Express is primarily designed to find news feeds, images, videos, and just about any online materials to curate. This software channels news, images and videos to blogs, Facebook accounts, Fan pages, and Twitter accounts. In just a few clicks you can create engaging content and bookmark it socially for further reach and syndication.
In other words, it can help you get more traffic, opt-ins and sales.
Trust us with this one, you NEED it!
ICC Express has…
Multiple Content Curation Sources
ICC Express boasts a wide range of curation sources – from Talkwaker alerts, RSS Feeds of authority sites, blog feeds, videos from popular video portals, royalty-free images, to HTML urls from any site on the internet.
ICC Express users enjoy the luxury of acquiring interesting content to curate through various curation sources.
Google Email Alerts Capability
This content curation software also integrates with GAlerts plugin – a plugin that reads Google email alerts and turns them into keyword-based RSS feeds. With that, you can curate Google email alerts for content as well. Cool, right?
Multiple Alerts Accounts & Blog Profiles
ICC Express is also designed dynamically that you can have multiple alerts accounts and have different alerts for each profile. This means you can create different blog profiles, different niches and have separate alerts accounts in the software.
Each blog profile in ICC Express can be setup with its own set of keywords, alerts, and feeds for efficient content channeling. This wonderful feature will help you easily tap targeted content channels to generate quality content.
This content curation tool will automatically log into your alerts account and download the feeds for that specific account once you run the program. And it does that each time you switch blog profiles. So you can effortlessly have multiple niches at your fingertips. Everything is just so organized!
Advanced Social Features
Another cool feature of ICC Express is its social bookmarking and scheduling capability. It will not only allow you to generate quality content but will also let you schedule posts – to your blog, Facebook pages and Twitter accounts.
See this video on social posting and scheduling feature of ICC Express:
Built-in Meme Editor
This amazing curation system does not only offer access to royalty-free images, videos, and other online materials, it includes a built-in meme editor as well. Thus, you can enhance the photo you want to share.
Impressed? Grab a copy now!
Each license of ICC Express comes with access to the member website, in which you can download the latest version of the software, documentation, pdf ebook and training videos, and bonuses.